We at FearAZ.com are here to help and inform.
What's Your Fear?
We all have a fear of something, but we're often too embarrassed or perhaps too proud to admit it. After all, fear may seem out of the ordinary or even silly at times. We'd rather manage such trivial matters on our own, in our own way. But the truth is, fear comes in all shapes and sizes, and even the smallest of fears can begin to take hold and overwhelm us. Our worlds may begin to shrink. We may isolate or suffer alone. Perhaps that's what led you here today. Have you reached a point where fear is controlling you versus you controlling your fear? Are you seeking ways to better manage that fear? If so, you've come to the right place. FearAZ.com is an excellent springboard. Here you can research your particular fear and discover ways to wrangle it and get your life back in order. There is hope.
Heidi & Rich's Story: The Birth of FearAZ.com
Together, Heidi and Rich Johnson have had an interest in fears and phobias for many years—an interest that started with their own apprehensions. Heidi has a deep-rooted fear of sharp objects. Known as aichmophobia, the fear involves anything pointed or penetrating such as knives, razor blades, or even items like hooks. It developed in her youth in Michigan's beautiful Upper Peninsula, where she was snagged in the arm with a large fishing hook. The incident remained in her memory, and a fear bloomed. In time, it transitioned from hooks to knives and the fear of being sliced. Her fear is not at the phobic level, not yet anyway, but it's close. To this date, anyone in the household walking by her with a knife should expect a worried look.
Rich's fear is a bit rarer. He has a fear of breaking fingernails, or what is known as onuxophobia, specifically, the fear of his nails breaking backward. He's unclear where this fear started as he doesn't recall ever experiencing this particular trauma. He's also quick to point out he's never been tortured in a medieval manner either.
Moving Forward
To learn more about their own fears, Heidi and Ron began researching fears and phobias. It didn't take them long to learn that there are many different fears—well over 500 listed phobias. This led them to wonder about other's fears as well. If they, personally, had interest in fears and phobias, surely others did too. And that's when the idea of creating FearAZ.com took shape. Heidi and Ron believe that the first step in conquering any type of fear or phobia is to learn the basics of the fear and, if possible, its origin.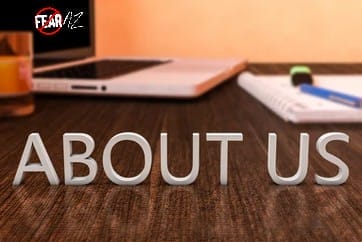 Here for You
No matter if your fear is only slightly bothersome or if it stops you in your tracks, here at FearAZ.com, we hope that you can find peace of mind by learning that you are not alone. Even with the rarest form of fear or phobia, there are others who share that same fear.
Please read and enjoy any and all information offered on FearAZ.com. And if you find you have a story to share, contact us. If your fear story is relevant (and with your permission), we may post it to help others move past their debilitating fears. If you don't have a story, that's okay too, send us your comments or suggestions here. We'd love to hear from you.
All the best in living a fear-free life!
---
FearAZ
PO Box 323
Houghton, MI 49931
USA
Fear A to Z   web address-  www.fearaz.com or  www.fearatoz.com
Voice Mail 1-313-329-6038
FearAZ.com is looking for personal stories of any "fear of" or phobia. If you have an interesting story you'd like to share, we welcome your submission. If the story fits with our content and guidelines, we'll add it to our site.