Parasites May Cause Health Issues and Much More
Do you tend to overcook meat and fish simply because you have a deep fear of parasites?
Do you avoid walks in the woods or even in a park because you fear ticks?
Does the idea of fleas in your carpet have you climbing the walls?
If images of worms, ticks, jiggers, or fly larva freak you out, you may suffer from parasitophobia, the excessive fear of parasites.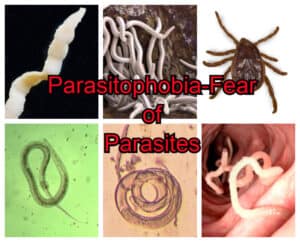 What Is Parasitophobia?
Parasitophobia, also known as entomophobia or acarophobia, is an intense and irrational fear of parasites or bugs. This fear can cause a range of psychological and physiological symptoms.
Parasitophobia can be debilitating and can interfere with daily life, causing individuals to avoid certain situations or environments where they may encounter parasites or bugs.
The fear of parasites may develop due to various reasons such as childhood experiences, traumatic events, or a genetic predisposition to anxiety. Individuals with parasitophobia may be overly concerned with hygiene and cleanliness, often cleaning their living spaces excessively or avoiding social situations where they may be exposed to potential sources of contamination.
Some individuals with parasitophobia may also experience panic attacks, sweating, and shortness of breath when encountering parasites.
If untreated, the fear of parasites can lead to obsessive-compulsive behaviors. Individuals may repeatedly check their body and environment for signs of infestation. They may resort to extreme measures to eliminate perceived threats, such as using toxic chemicals or covering their skin with protective clothing.
Potential Causes of Parasitophobia
Parasitophobia can have various causes, including:
Childhood experiences
Experiencing traumatic events such as being bitten by a bug or witnessing a loved one's experience with a parasite infestation can lead to the development of parasitophobia.
Genetics
Some people may have a genetic predisposition to anxiety disorders, including phobias like parasitophobia.
Learned behavior
If a person's parents or caregivers had a fear of parasites or bugs, they may have learned to fear them as well.
Media exposure
Exposure to news stories, movies, or television shows that portray parasites or bugs as dangerous or scary can lead to the development of a phobia.
Other anxiety disorders
People who have other anxiety disorders, such as generalized anxiety disorder or obsessive-compulsive disorder, may be more likely to develop parasitophobia.
Substance abuse
Substance abuse, particularly the abuse of stimulants such as cocaine or amphetamines, can increase the risk of developing a phobia.
It's important to remember that the causes of parasitophobia can be complex and may vary from person to person. With the help of a mental health professional one can identify the underlying cause of their phobia and develop a personalized treatment plan.
Is Parasitophobia a Phobia of Fear or Disgust?
Symptoms of Parasitophobia
Physiological Symptoms
Some of the standard physiological symptoms associated with the fear of parasites include:
Rapid heartbeat
Sweating
Trembling or shaking
Shortness of breath or difficulty breathing
Chest pain or tightness
Nausea or stomach upset
Dizziness or lightheadedness
Feeling faint or weak
Muscle tension or pain
Headaches
Hot or cold flashes
Dry mouth
Chills or shivers
Clammy hands or feet
These symptoms can be triggered by exposure to the object, situation, or activity that the individual fears or simply by mere anticipation of such exposure. Such symptoms are part of the body's natural "fight or flight" response and are designed to help us respond to perceived threats. However, in the case of a phobia, the response is disproportionate to the actual threat and can interfere with daily life.
Psychological Symptoms
Psychological symptoms associated with parasitophobia include:
Insomnia or difficulty sleeping
Difficulty concentrating
Irritability or restlessness
Changes in appetite or weight loss/gain
Increased sensitivity to sensory stimuli such as light, sound, or touch
Altered perception of time
Changes in sexual function or interest
These psychological symptoms are a result of the body's natural response to stress and anxiety. When an individual is exposed to the object, situation, or activity they fear, their body releases hormones such as adrenaline and cortisol, which can cause a range of psychological reactions.
Treatments for Parasitophobia
Self-Help Options
Self-help techniques can be useful for managing a phobia and reducing anxiety symptoms. Here are some self-help strategies that can be effective in managing a phobia:
Education
Learn about your phobia and the specific triggers that cause your anxiety. Understanding your phobia can help you develop coping strategies.
Relaxation techniques
Practice relaxation techniques such as deep breathing, progressive muscle relaxation, or visualization. These techniques can help you calm your body and reduce anxiety.
Exposure therapy
Gradual exposure to the object, situation, or activity that triggers your phobia can help you desensitize to the fear over time. Start with small steps and gradually work your way up to more challenging situations.
Cognitive behavioral therapy (CBT)
CBT is a type of therapy that helps individuals identify and challenge negative thoughts and beliefs that contribute to their anxiety. You can practice CBT techniques on your own, such as journaling or self-talk.
Mindfulness
Mindfulness involves paying attention to the present moment without judgment. Practice mindfulness techniques such as meditation or yoga to help you stay present and calm.
Exercise
Regular exercise can help reduce anxiety and stress, and can also improve mood and overall well-being.
Social support
Seek support from friends or family members, or join a support group for individuals with phobias. Having a support system can help you feel less alone and provide encouragement as you work to manage your phobia.
It's important to remember that managing a phobia can be challenging, and it may take time and practice to see improvement. If your symptoms persist or interfere with your daily life, seek out a mental health provider.

Professional Help Options
If self-help techniques are not effective in managing your phobia, or if your symptoms interfere with your daily life, it may be helpful to seek professional therapy. Here are some options a mental health provider may offer:
Psychotherapy
Psychotherapy, or talk therapy, can be effective in treating phobias. A mental health provider can use various therapeutic techniques, such as cognitive-behavioral therapy (CBT) or exposure therapy, to help you manage your phobia.
Virtual reality therapy
Virtual reality therapy is a newer treatment option for phobias that involves exposing individuals to virtual simulation of their phobia triggers in a controlled environment. This type of therapy can help individuals gradually face and learn to overcome their fears in a safe and controlled setting.
Support groups
Support groups for individuals with phobias can provide a safe and supportive environment for sharing experiences and coping strategies.
Medication
In some cases, medication may be helpful in managing phobia symptoms. Your mental health provider can prescribe anti-anxiety medications or beta-blockers to help reduce anxiety symptoms.
It's important to choose a mental health provider who has experience treating phobias and who you feel comfortable talking to. With the right treatment and support, it's possible to manage and overcome a phobia
Wrap-Up
Parasitophobia is not just squirming over tapeworms. It's a serious condition that can significantly impact an individual's daily life. It's important for individuals experiencing serious life changing symptoms of parasitophobia to seek out self-help or professional strategies to address their fears and learn coping methods to manage their anxiety.