Fear of Ducks Watching You: Anatidaephobia
Do you get an uneasy feeling when you're at a park or near a pond or lake? Do you feel that something or someone is staring at you, watching you intensely, observing your every move? Could that something be a duck?
If you've been afraid to admit that ducks creep you out, then read on. You're not alone in that feeling.
The phobia you may be experiencing is called anatidaephobia, or the fear of ducks watching you.
Let's face it, we all develop some unusual phobias or fears in our lifetimes. Some phobias, like arachnophobia, fall within a level or reason, because being afraid of spiders sounds rather sensible, right? Yet other fears or phobias may not seem sensible, such as a fear of being watched by ducks.
Still, these phobias should be taken seriously. These fears are just as crippling as any other phobia.
Anatidaephobia, or fear of ducks watching you, falls under the heading of scopophobia, which is a fear of being stared at or watched. But scopophobia is a human to human fear.
With anatidaephobia, you actually fear ducks, not humans, staring at you or watching you.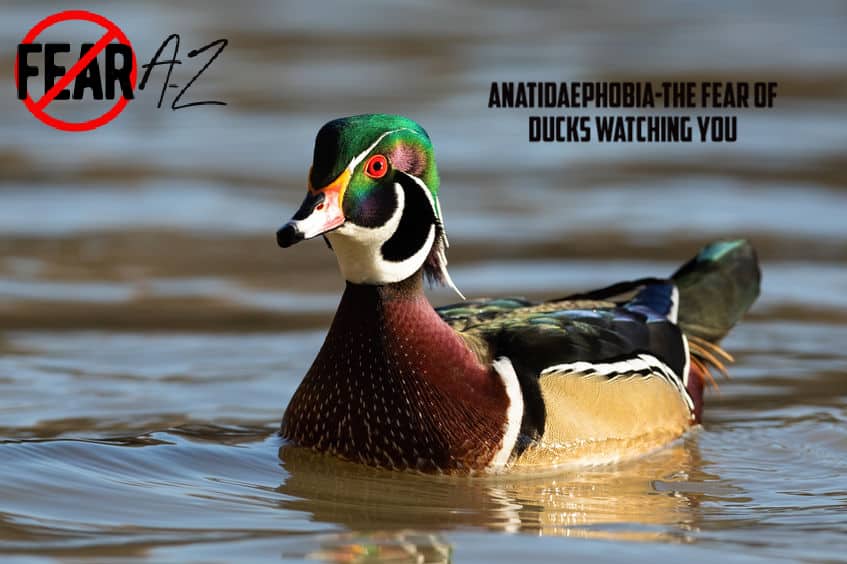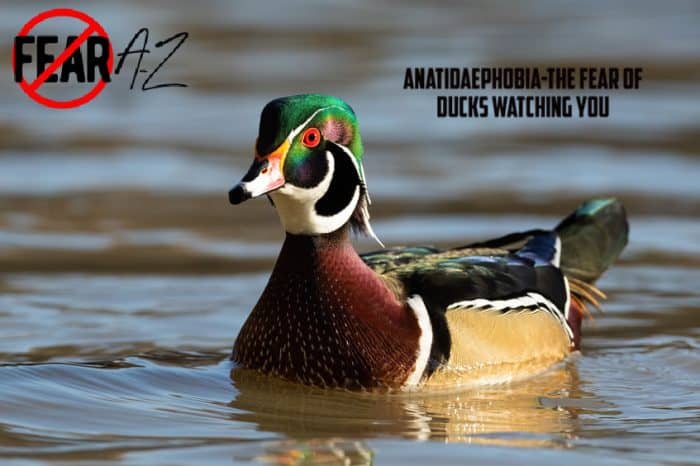 What Is Anatidaephobia? (Fear of Ducks Watching You)
Whether you simply have a fear of ducks or a fear of being watched by ducks, the word utilized—as well as the definition—is the same: anatidaephobia. Yes, it is a totally irrational fear, especially if you do not live anywhere where you might encounter a duck on any given day. Yet it is a very real fear.
Anatidaephobia is a big phobia with a big name. Phonetically, you will need to say it slowly until you develop muscle memory. It goes like this: Ah-na-ti-day-fo-be-uh. The word takes it root from "anas," the Latin term for this group of waterfowl commonly known as ducks.
Symptoms for Fear of Ducks Watching You
The fear of being watched by ducks is often quite visceral, causing you to possibly experience some or all these symptoms:
Feel sick to your stomach.
Feel dizzy or lightheaded.
Feel faint.
An immediate need or attempt to flee the area where you are.
Profuse sweating.
You may even develop the worst symptom: avoiding all reasons to leave your home. This undoubtedly will impact your life the most. All these symptoms are similar to those suffered with scopophobia, because the phobia of ducks watching you is a fear related to scopophobia, the fear of being watched by people.
Understanding Anatidaephobia
Unlike humans, ducks can't criticize you or shout obscene things at you. Quack loudly they may, but they are more likely to fly away or waddle as fast as they can in the opposite direction. While it is often questioned in psychology as a real fear, those that genuinely have the fear of ducks have their reasons.
Maybe a duck crashed into you or bit your fingers when you were little. Maybe a duck flew into the car or house and caused a lot of damage. Maybe you're allergic to down and are afraid to get near ducks. Like scopophobia, the causes can also be attributed to anxiety disorders, genetics, and/or neurological disorders.
I see you!
Solutions for What Terrifies You
There are solutions to your most unusual fear, and that's the good news. The phobia of ducks watching you may just be an extension of scopophobia, a fear of being watched by humans. If you are afraid of both humans and ducks watching you, then the treatment approach is often a united one to address both phobias.
Professional help includes, but is not limited to:
Talk therapy, also referred to as behavioral/cognitive therapy.
Medications to control anxiety.
Keeping a diary of when you feel you are being stared at, and then reading the entries out loud to your therapist.
Exposure therapy, which introduces a staring fear trigger into your sessions to help you gradually overcome your fears.
Your therapist may have some other suggestions or helpful hints as you go along in session to help you cope. You may find it useful to use more than one approach or suggestion that your therapist or psychiatrist offers.
Finally, avoidance therapy to a certain extent can work, too. Obviously, you can't avoid ducks all of the time, nor should you have to. However, deciding when and where you are willing to encounter ducks, helps you cope with some of the feelings and sensations that come up under certain circumstances.
Some things you can try are to avoid parks or other places with waterscapes where ducks might like to swim, nest, or look for food. You can also avoid petting zoos where ducks are most likely to be. Ducks tend to stick close to water because they are a waterfowl bird, so if you avoid water and marshy or swampy areas, you can avoid most encounters with ducks.
If you decide you no longer want to avoid ducks, but are still intent on getting over your fear, an easy exposure therapy technique is to begin holding fuzzy, yellow ducklings. Their cuteness is hard to avoid. Try fostering a duckling for a while, or visit farms or other outlets which raise ducklings. Nurturing a duckling may help you get over your fear of ducks.
In closing, FearAZ.com is here to help in any way we can. We sincerely hope while explaining this fear/phobia, we didn't end up sounding like a "quack."